Join GameRankr and track your games with friends.
Get Started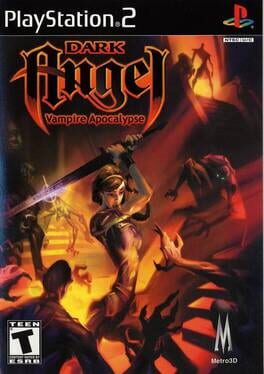 Dark Angel: Vampire Apocalypse
1 ranking, Avg Rating: 4.00
Promising over 100 hours of gameplay, Dark Angel: Vampire Apocalypse is one of the longest adventures on the PlayStation 2. Set in the year 1640, players assume the role of Anna, the Dark Angel of Retribution. Though he was defeated a century ago, the monsters and demons faithful to the Shadow Lord have begun preparations for his resurrection. Anna has exactly one year to prepare for the battle with this demonic entity, and in this time she must explore three distinct villages and six unique battlegrounds, slaying all the creatures she comes across. An action-RPG that borrows elements from the likes of Diablo, Dark Angel: Vampire Apocalypse presents players with a wide array of equipment and an arsenal of weapons -- both, projectile-based and melee-oriented -- to collect. Weapons are bound to the controller's four face buttons, allowing players to combine items as desired. The requisite meters allow you to monitor health, spirit, and experience levels as well as your current stash of gold. Spanning three separate races, the hordes of monsters all succumb to different weapons you have at your disposal. Broadswords for example, are particularly effective against the Undead. The storyline is purposely non-existent, with nothing in the way of cut-scenes, and minimal character interaction to reveal more of the plot. Players are free to do as the please with little in terms of specific objectives to complete. You simply have to build Anna's abilities for the duration of a year, and ensure that she will be strong enough when the time comes for her to face the Shadow Lord.
More Details
Less Details
Everyone's Rankings
1 Ranking
Andy Dalton
PS2