Join GameRankr and track your games with friends.
Get Started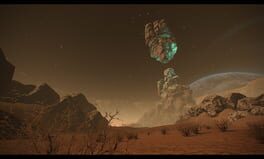 Monria
1 ranking, Avg Rating: 0.00
Monria is a Horror 3D MMORPG expanding upon the "Cthulhu Mythos" and set in a distant future. The Deep Space Extraction Corporation (DSEC) has discovered and claimed a new astronomical body. There, they have found an ancient and incomprehensible evil. An evil so stealth, that one is unaware of how subtle and pervasive the effects can be on one's mind until it's too late. Untold numbers of inhabitants have gone the way of the dark side and have become quite restless. The Church of Cthulhu, an old Earth cult that legends say once devastated the universe, presents a mystery far too great for DSEC to unravel alone. The struggle is unending, and efforts to thwart the invasion of sense and sanity only seems to give strength to this invisible entity that wants to inhabit our every thought. DSEC is calling upon those who possess a strong will, and are brave enough to face the mysteries of the dark. You must be of sound mind, and able to resist the seductive nature of this invisible force, for Cthulhu is not a creature to kill, but an unfathomable and controlling energy that permeates an environment you may think is safe. It is not. Features: - Established Real Cash Economy (RCE) model that allows withdrawal of invested funds - Trade that let's you take advantage of the real cash economy to earn extra income - Experience the eye-popping CryEngine2 graphics - Live the evolving and captivating Cthulhu Mythos-based storyline where players have influence and impact - Engage in combat with Cthulhu-style creatures, and solo if you dare, but team if you must - Use an arsenal of ranged weapons, melee weapons, or mind powers - The mission quests for hunting, mining and crafting will keep you busy, and your mind away from dark negative energy - Mine the craters and caves for valuable resources - that's if the Cthulhu creatures are willing to let you take them - Craft your favorite items for personal use - or you can sell at auction, trade with others, and even sell items in your own shop - There's a complex in-game auction system with great flexibility that facilitates buying and selling of items and resources - The in-game messaging and voice chat capabilities are a way to learn more about Monria, and engage in friendly discussions - Create a society and build an in-game community - Own your own apartment or shop on a Cthulhu-inhabited world - This multifaceted game environment is designed to keep you connected with friends and a globally-diverse community - Hard earned in-game skills can be traded. Time is money!
More Details
Less Details